Mon, 19 July 2021 at 1:33 pm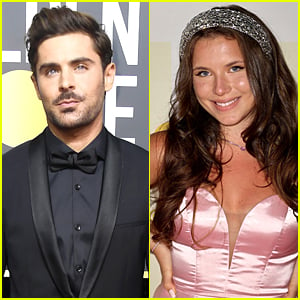 There were a couple of first time winners over the weekend at the 2021 Daytime Emmy Awards!
Zac Efron and Chiara D'Ambrosio picked up their first trophies on Sunday (July 18), in the fiction and lifestyle categories.
The 33-year-old actor won Outstanding Daytime Program Host for his Netflix series Down To Earth with Zac Efron, while the 16-year-old actress won for Outstanding Younger Performer In a Daytime Fiction Program for her work as Regan Sanders on Popstar! TV's The Bay.
Check out their thank you's inside…
"Wow! Never expected this and so grateful. A HUGE thank you to #daytimeemmys @netflix and our small but powerful crew @zacdowntoearth who made this show what it is," Zac wrote on Instagram. "And most of all, thank all of you for watching and enjoying D2E. This is for you. Get ready for the next adventure it's going to be a good one. Love u guys ❤️🙏🏼"
Down To Earth will be back for a second season.
"words cannot express this moment. thank you to the television academy and judges for considering my work this season. special thank you to Gregori J. Martin, Kristos Andrews, and Wendy Riche for giving me the opportunity to play Regan Sanders. it is an honor to play such an amazing character, and being a part of this show makes me feel so grateful," Chiara shared on her account.
"thank you to my team for continuing to help me work towards my dreams. my parents, my rock, have inspired me in more ways than I can ever describe. they push me to be the best person I can be, and they have made me into the strong and determined woman I am today. last but not least, my best friend, Bianca. we started this industry together, and I cannot have imagined being here today without you by my side. congratulations to all of the other nominees tonight, and thank you god! ♥️ #daytimeemmys," she continued.
Chiara also shared a similar thank you on her shared Insta account with her sister Bianca. Check it out HERE!
Other winners include Netflix's Trinkets for Outstanding Young Adult Series, Dash & Lily's Jodi Long for Outstanding Performance by a Supporting Actress in a Daytime Fiction Program, and Dash & Lily for Outstanding Writing Team For a Daytime Fiction Program.
Pictured in the gallery is Chiara and twin sister Bianca at the 2021 Daytime Emmy Awards on Sunday (July 19). They were actually both nominated in the same category for their respective roles on The Bay!
FYI: Chiara is wearing a Faviana dress with jewelry from Natalie Mills and Elise Paige Jewelry. Bianca is wearing a Faviana dress with jewelry from Zarianas and Elise Paige Jewelry.
Congratulations to all the winners!!
Like Just Jared Jr. on FB