Mon, 19 July 2021 at 7:29 pm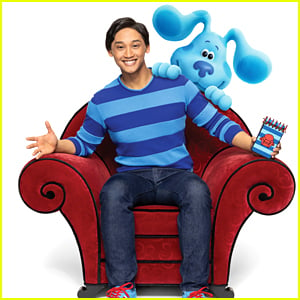 Blue's Clues & You is getting the big screen treatment!
It was recently announced that Blue and Josh Dela Cruz are heading to New York City in a brand new movie.
The news comes as Blue's Clues commemorates it's upcoming 25th anniversary, after first launching on September 8, 1996.
Find out more inside…
The brand new movie will follow Josh and Blue as they head to New York City to audition for a big Broadway musical. Production will begin this summer.
"Blue's Clues is hands down one of the most successful and critically acclaimed preschool TV shows in history, and we're so proud that Nickelodeon has been its home for the last 25 years," Ramsey Naito, President, Nickelodeon Animation, said in a statement. "The series' creativity, interactivity and inclusivity has stood the test of time and we are continuing to empower, challenge, and build the self-esteem of a new generation of preschoolers with a brand-new Blue's Clues & You! movie and multiple upcoming seasons of the series in our Animation Studio pipeline."
The anniversary will also be marked by a multitiered partnership with global nonprofit organization Save the Children, a TV tentpole event, a one-of-a-kind nostalgia-driven music video, exclusive consumer products programs and more, kicking off this summer.
Also for the anniversary, Blue's Clues & You! will air two special TV events this fall, "It's YOUR birthday!" on September 17th and "Our New Neighbor," airing October 1st.
In addition, there will also be an original 25th anniversary nostalgia-driven music video featuring Blue's Clues & You! star Josh Dela Cruz and former Blue's Clues hosts Donovan Patton and Steve Burns, along with real-life fans from various generations who grew up on the series.
Like Just Jared Jr. on FB