Mon, 19 July 2021 at 5:31 pm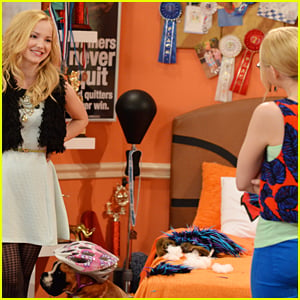 Dove Cameron is thanking her fans on the eight year anniversary of her Disney Channel show Liv and Maddie!
The 25-year-old actress and singer starred on the series as both title characters for four seasons.
Liv and Maddie also starred Joey Bragg, Tenzing Norgay Trainor, Kali Rocha and Benjamin King, and premiered on the network on July 19, 2013.
Click inside to read more…
The series followed Liv, a popular television star whose show has just finished its run, and Maddie, an outstanding student and school basketball star whose popularity is on the rise, until Liv makes a return to their high school.
In new tweets, Dove celebrated the anniversary by thanking her fans for their support over the years.
"wow apparently liv and maddie premiered 8 years ago today ! didn't think this would make me feel any type of way, but i'm definitely a little more permeable today knowing that ! look at us go," she wrote in her first post.
"8 years has gone by so quickly and also feels like 5 incarnations of myself ago. i am so glad for this incredibly strange and wonderful life . thank you for loving me so well when i was just a baby and for allowing me to become who i didn't know i could be. growing up together !" Dove added.
Earlier this year, all four seasons of Liv and Maddie and Liv and Maddie: Cali Style were finally added to Disney+. Check out the theme song sequence below!
If you missed it, a few months ago Dove revealed a little known fact about her characters…
In case you didn't see, two Liv and Maddie actors just got engaged!
wow apparently liv and maddie premiered 8 years ago today ! didn't think this would make me feel any type of way, but i'm definitely a little more permeable today knowing that ! look at us go

— Dove Cameron (@DoveCameron) July 19, 2021
8 years has gone by so quickly and also feels like 5 incarnations of myself ago. i am so glad for this incredibly strange and wonderful life . thank you for loving me so well when i was just a baby and for allowing me to become who i didn't know i could be. growing up together !

— Dove Cameron (@DoveCameron) July 19, 2021
Like Just Jared Jr. on FB